A brace of Dan Armstrong (London) guitars
23 March 2010
So I went over to Manchesterguitartech to collect some cans of nitro-cellulose for my Dan Armstrong refinish, and what do you know, Steve had a visitor. It was another Dan Armstrong (London)!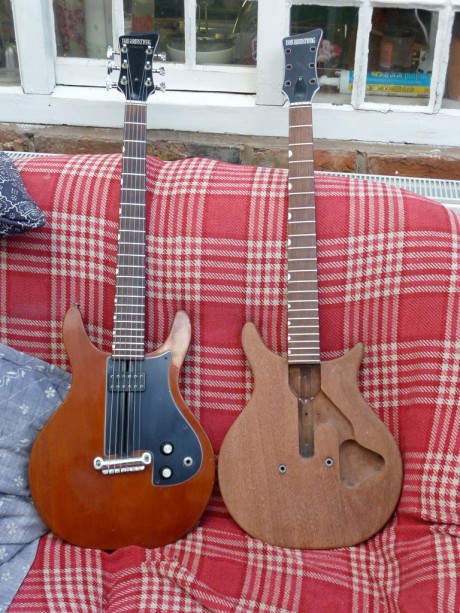 A brace of Dan Armstrong (London) guitars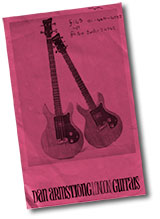 This was one of my Dan's older brothers (on the left), made in the first quarter of 1974, and matches the look illustrated in the brochure I still have. Interestingly, the brochure advertises the fact that the neck is securely held by sturdy bolts, although both these guitars feature glued in necks.
By the end of 1974, when my Dan Armstrong was built, the body had changed considerably. My guitar body is around 45mm deep, whereas the older one is around 50mm. My Dan has a much smaller lower horn as you can see, but the body is also shorter - 325mm from the last fret to the bottom. The earlier model is at least 10mm - 20mm longer.

The earlier version also features a dressing away inside the lower horn to make upper fret access easier which mine does not.
On both guitars however, the bridge has tilted forward, tipping towards the neck with the force of the strings anchored at the back of the wraparound. The bridge is obviously made of a metal soft enough to yield under years of pressure. The bridge is advertised in the brochure as being made of cast aluminium, but the weight of mine would suggest otherwise. Without stripping away the chrome, it's hard to tell what it's made of. Brass? Something else cheaper and easier to cast?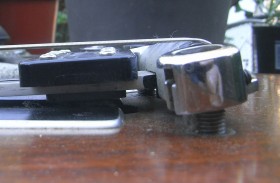 Dan Armstrong bridge