Podcast track listing
7 June 2022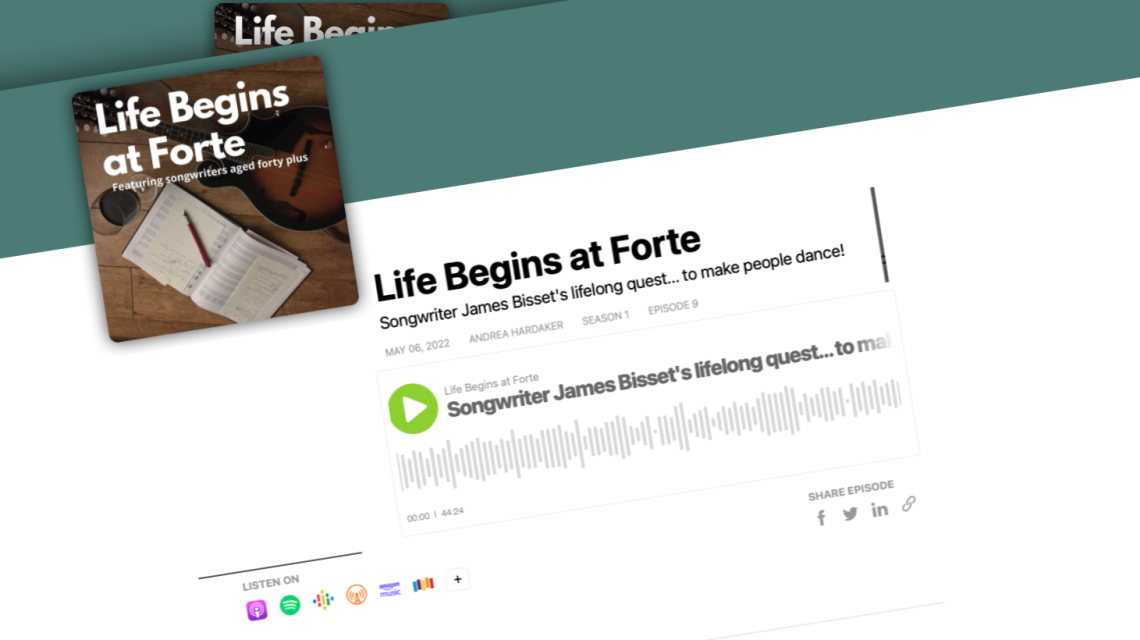 I was a guest recently on a podcast about songwriting as a craft for the grown ups - Life Begins At Forte.
If you haven't heard it yet please check it out
Songwriter James Bisset's lifelong quest... to make people dance!
The podcast also features eight tracks, with me talking over them. What's not to like!
So for the sake of completeness and credit where it is due, here's a track list.
01 Aslan

Caedmon
1978
Written by Simon Jaquet
We considered ourselves loosely as a folk rock group (not least because we had no drums), but a new acid-folk or psych-folk genre has since been invented and we found ourselves re-categorised.

02 Bernie and Naomi

Jazzrascals
2000
Written by James Bisset and Peter Condor
Naomi's Daughter was a Bernie Hot Hot song. Pete and I sampled the horn riff, chopped it up and started building up the track. Still one of my favourite Jazzrascals tunes.

03 Dog's Life

Bernie Hot Hot
1987
Written by James Bisset
And this is one of my favourite Bernie Hot Hot songs, written in the Thatcher years and still resonating for me today. Which is why it might yet appear on the new album.

04 Futurechase

Excalibur: Morgana's Revenge (MMMG)
1997
Written by James Bisset
Game levels were built using maps. Each map was made using multiple zones and each zone could trigger a short audio loop when the player entered. So with skillful composition and construction you could make the incidental music rise and fall seamlessly with the action. Brilliant fun.

05 Fiftieth Anniversary Edition

James Bisset
2016
Written by James Bisset
This was a half-finished song from an earlier attempt to kickstart my music making. And it was the first song I started performing at Open Mic nights.

06 Without Words

James Bisset
2019
Written by James Bisset
Evidence, if evidence were needed, that a song can have any old nonsense lyric as long as it has words. But it cannot have no words, because that would be 'just music'.

07 Singing In The Dark

James Bisset
2016
Written by James Bisset
This came out of another unfinished tune from the Fiftieth Anniversary debacle. I see this as my most 'folky' tune, although I soon discovered that you can always be out-folked by a folky.
But you can never be out-funked by one.

08 Sunburst

James Bisset
2022
Written by James Bisset
This is a demo of a new song, written for the new album. The plan is to demo all the new songs and work out what the strengths of each arrangement are before heading for final production. The demos are being posted up on my Buy Me A Coffee account for members only. So if you want a sneak peek, to support the cause, or just complain about the singing, head on over.